Real Life Chatbot Use Cases That Work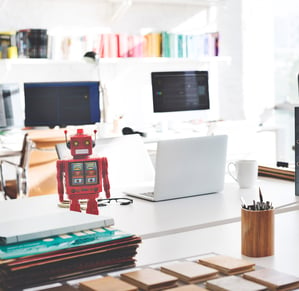 Chatbots have swept across the world of business on a global scale, and are increasingly becoming the norm. App-integrated, AI-smart bots allow brands to reach customers on a new level, as well as internal bots that help enterprises optimize their marketing, sales, HR, and customer service/support workflows. In this age of hardware and software robots – empowered by Artificial Intelligence – chatbots give businesses an unprecedented opportunity to increase efficiency, productivity, operational feasibility, and to engage with their customers on a level that was previously not possible. Messenger/business applications, enabled by conversational UI and employing human language, enhance human-to-computer interactions and allow both internal personnel, and external end-users/customers to more effectively carry out operational tasks and processes that can increase both the bottom and top line of an enterprise. 
The rapid increased use of chatbots is important to put into perspective. As reported by Convince and Convert, a study – by SurveyMonkey Audience – revealed that telephone/email still represents the most common form of communication between customers and companies, with 60 percent of adults surveyed indicating that they had used such mechanisms within the year to communicate with a business. Contrasting this, 38 percent indicated that they had used an online chat system in the prior year, while 30 percent indicated that they had used a company's mobile app to interact with the brand, which is more than the 28 percent who indicated that they had engaged with a business via social media. Compared to those numbers, 15 percent of American adults have indicated engaging with a brand via a chatbot in the past 12 months, which equals the approximate percentage of Americans owning a smart speaking system (e.g. Amazon Alexa, Google Home). Additionally, according to Bloomberg, chatbots (as of 2017) had already outpaced mobile apps in development rates, and according to Gartner, by 2020, most people will "talk" with chatbots more often than with their spouse.
While some may doubt the usability and practicality of AI and chatbots – and may see them as impractical novelties or a modern business "fad" – the fact is, Chatbots have a myriad of real-life uses that many companies have already leveraged to make life easier for both personnel and customers.
Practice Use Cases for Effective Chatbots
Chatbots can help customers and businesses in a multitude of ways, ranging from more "standard" uses such as customer service bots, to more esoteric uses such as bots for airline companies, bots for pizza delivery companies, and even police bots that aid police departments with catching criminals. Every enterprise department can benefit from the use of a chatbot, including:
Human Resources: HR processes – such as payroll, training, recruitment, etc. – can all be automated and handled with higher efficiency via a chatbot, leaving personnel with the time and resources to handle more critical tasks.
Information Technology: IT processes and operations can be aided via an AI-smart bot that helps personnel with IT support and management functions.
Finance: Banking and financial management chatbots can help to analyze large amounts of Big Data, and help CFOs make strategic decisions that can greatly benefit the organization.
QA: Quality Assurance and testing of products can be both automated and managed via a chatbot in many use cases, which can help to reduce company overhead.
Supply Chain Management: Certain SC management functions can be handled automatically by integrating a smart bot/chatbot into enterprise systems, such as an ERP/SC suite.
Data Analytics: Chatbots can be integrated with robust data analytics systems to analyze Big Data and produce key Business Intelligence that can help companies utilize their resources more effectively and craft more efficient strategies for future success.
Marketing/Sales/Customer Service: The integration of chatbots into CRM suites allows smart bots to manage, automate, organize, and integrate a myriad of marketing, sales and customer service workflows to greatly increase the efficiency of marketing/sales processes, and to reduce overhead.
In conjunction with the general functions, chatbots can provide to aid SMEs – and larger enterprises – such smart-AI bots can also be shown to provide very specific functionalities that can give any organization an edge over its competition.
Customer Service Bots
One of the most specific and critical ways a chatbot can help a business to scale and grow is via a conversational CS chatbot. Customer Service is one of the most resource intensive departments in a company, and an automation chatbot can help minimize overhead by answering customer inquiries, guiding customers through the buyer's journey, and troubleshooting customer issues. The chatbot accomplishes all this quickly and efficiently via Natural Language Processing (NLP) while freeing up CS reps to spend time on more critical tasks. In conjunction with CS bots, marketing/sales automation bots can help to increase the efficiency of the ToFu, MoFu, and BoFu phases, reducing churn rates and Customer Acquisition Costs (CAC), and increasing customer retention rates.
Conversational Commerce: "Hey Alexa"
In addition to web-based chatbots and app-integrated chatbots, personal assistant, voice-based bots have become popular and are marked for increased growth. In an age of e-commerce, cloud systems, AI, smart tech, and chatbots, combining all such technologies into a single system allows customers to more easily buy their favorite goods while using voice-based natural language commands – all without needing to use a traditional smartphone app or a point-and-click/touch-based system. One of the most significant examples of a powerful chatbot/bot system is Amazon's Alexa and Amazon Echo. While Alexa is Amazon's voice assistant AI-chatbot, the Echo is a set of smart speakers that work with Alexa to assist users with tasks and control certain aspects of a user's smart home. Users can order from Amazon Prime through Amazon Echo's Alexa-based system, and engage in conversational commerce in an unprecedented manner.
Personal Productivity Coach
Just as "secretary" chatbots can be used to assist users with house tasks and everyday processes, so there are "personal coach" chatbots that can help users to be more productive by helping users meet their goals, set more effective schedules, or record critical tasks on calendars. An example, the Quantified Self chatbot with Instant 4.0, allowed users to not only track their daily habits but also analyze the data and produce reports that their chatbot (the Instant Coach) puts into perspective so that users may alter their behaviors and become more productive. 
News or Analytical Report Bots
Due to living in an age of data, it is often difficult for individual users and organizations to obtain the pertinent news and analytical reports they need, either for personal or business use. News/analytical report bots are able to not only mine parts of the Internet and scour online resources for certain reports, but they can also procure the pertinent news reports from online resources. Such bots can be used to analyze reports, produce an analysis along with said report, and to present the reports via voice-chatting or a conversational UI.
New Way to Brand Your Website
In addition to standalone personal assistants and app-integrated chatbots, web-based Chatbots allow dynamic Web 2.0 sites to not only increase customer engagement, but to increase qualified leads and conversion rates, while reducing bounce rates and churn rates. It is possible for Chatbots to aid in increasing the bottom line by increasing customer engagement in a quick and efficient manner – such as quickly answering customer questions via a natural human language, and efficiently guiding customers throughout the buyer's journey – can decrease website bounce rates and ensure that leads are converted into customers. Virtually all aspects of the inbound marketing/sales funnel (ToFu, MoFu, BoFu phases) can be optimized via automated web-chatbots.
Companies on Top of Their Bot Game
While there are a multitude of specific use cases where Chatbots could aid a company (of any size) with optimizing their operational efficiency and productivity, below are several specific examples that show how companies today are already leveraging Chatbots and AI to do incredible things. While many popular bot frameworks and platforms, such as Facebook Messenger's bot platform, Microsoft Bot Framework, and API.AI are often used to develop and deploy robust chatbot systems, a number of companies, such as KLM Royal Dutch Airlines and 1-800-Flowers, are at the top of their bot game delivering unique services to customers via chatbots.
Domino's Pizza
One of the most interesting applications of chatbots is within the food industry – specifically, food delivery and the ordering of food over popular messenger applications, such as Facebook Messenger. Due to the massive user base that Facebook has, companies like Domino's Pizza have deployed Chatbots on the platform to increase their operational efficiency by allowing customers to quickly and efficiently order pizza through Facebook Messenger, via their chatbot known as Dom. 
KLM Royal Dutch Airlines
One of the best examples of chatbot deployment is KLM Royal Dutch Airlines, which deployed a Facebook Messenger-based chatbot (BlueBot) that assists passengers with such things as booking tickets, keeping them abreast of flight information via status updates, and disseminating news on their flight gate, all in real-time. According to the MarTech Today blog, KLM developed the bot to aid their human customer support team. As has been noted, customer support departments are often the most resource heavy departments and often benefit most from the use of an automation AI-bot.
1-800-Flowers
The floral and gourmet foods gift retailer deployed GWYN, which is an IBM-Watson based AI chatbot that aids customers with the ordering of floral and food gifts via their online system. Due to utilizing complex Machine Learning algorithms, GWYN becomes "smarter" and is able to deliver a customized shopping experience to customers based on "her" increased experience of interacting with customers (deep learning).
H&M
Like many retail and e-commerce companies, H&M has deployed a chatbot over Kik that assists customers with their buyer's journey, and helps them to order more efficiently and quickly. The H&M bot specifically customizes the customer experience and saves the user time by smartly directing the user to the pertinent style of clothing that fits their price, gender, etc.
Amtrak
Amtrak's virtual assistant, Julie, efficiently assists customers with their online queries and operates as a virtual consultant in the same manner as a phone rep. Such a use case helps to save overhead by allowing phone reps to take on critical queries while "Julie" helps customers with other queries, thus enhancing their customer support workflows and operations.
Industries that Could Benefit from Bots
While virtually every industry can benefit from both hardware and software robots, there are some specific industries that can benefit from an analytical, smart bot that learns and grows based on experience.
Finance Advice Bot
Financial analyses have become huge in the age of data science and business intelligence. Likewise, a smart bot that monitors the financial systems on a global scale, and communicates with the pertinent officers, can greatly aid in increasing a company's efficiency, and can help to mitigate costly financial mistakes. Such a bot could integrate with financial enterprise suites, or be the personal assistant of CFOs. Such a bot could help with a user's personal finances and banking by offering key advice based on the AI bot's complex financial analysis and "learning" of the pertinent markets.
Political Campaign Bot
Along with virtually any campaign, a political bot could greatly aid in helping politicians to craft their campaigns based on the analysis of data, and the AI's ability to process numerous factors could help campaigners operate in a more strategic manner.
Media and Entertainment Bot
Chatbots that reach fans in a more engaging and customized way could help virtually every facet of the entertainment industry. Apps integrated with Chatbots, smart TV's (with entertainment apps), or media stations that utilize bots could guide fans in a way that increases TV/social media views, and help to advertise the pertinent videos or music to the correct demographics.
Restaurant Industry Bot
Restaurants could benefit largely from chatbots by streamlining customer order delivery, aiding customers with making reservations online, answering customer questions about their menu, and much more.
A Glimpse Into the Future: Potential of AI and Chatbots
With the advent and evolution of more advanced tech, such as the Internet of Things (IoT), Cloud systems, and smart devices, Chatbots have the potential to radically alter how such advanced technological systems are deployed and to make such systems more efficient. Consider the example of IoT and "smart cities": sensors could be linked to integrated AI-chatbots to manage (and communicate with backend system admins) the systems that run smart devices within a city, such as public transit, street lighting, and traffic. Cloud systems and all IT systems could benefit from AI-chatbots helping to maintain the integrity of data, and securing systems while communicating with admins if a hacker attempts to break into a network, database, or application. The possibilities are almost endless with how Chatbots can be used in the future.
Virtual Batman: City Assistant Bot
In conjunction with a smart city, chatbots could be integrated with IoT sensors to make cities safer and to help police officers catch criminals. Even without smart cities and IoT tech, chatbots could help to identify criminals based on complex AI analytics processes in association with whatever evidence is present. Another function of a chatbot could be to aid in the recruitment of law enforcement personnel, a function that has already been leveraged by Los Angeles police departments.
Bots That Help with Filing Taxes
Personal Tax Accounting virtual assistants and AI bots could help both customers and business with their personal and/or business tax filing processes, which – due to deep learning – could make filing taxes much quicker and more efficient over time via automation workflows. Such a virtual CPA system – that operates like a tax assistant – could help companies and individuals save large amounts of time and money.
Construction Bots That Assist Builders
Engineering bots – along with IoT sensors – could become integrated with construction builder IT systems to ensure the safe, effective building of houses, buildings, bridges, train lines, cars, and virtually any other system that needs to be constructed and/or engineered. Such chatbots could communicate weight distributions, weak points in a structure, necessary materials for a building foundation, automate CAD processes, and could even offer step-by-step assistance with repairs and building based on complex AI analyses of structures and blueprints.
User Manuals That Come to Life
While current user manuals are static and do not effectively show how to perform certain processes, AI-Chatbots could turn such manuals into dynamic, interactive, instructive guides that can communicate in a natural, human language, and in a way that is customized based on "learning" from interactions with the end-user. Essentially, an AI bot can teach and instruct by speaking "in a user's language," which is the most effective way to ensure that a user understands and can follow instructions optimally.