The Top Widely-Known Consulting Firms Today
One of the biggest growing industries in the world today is the consulting industry. The growth seen within the consulting industry is a direct result of the massive changes that the business industry has seen over the past decade in general. In order to adapt to these changes, businesses of all sizes are turning to consulting firms for help. The success of the consulting industry has led to thousands of consulting firms popping up all over the world. The question is, where do you even begin to look if you need professional consulting for your business?
What Is A Consulting Firm?
Before diving into the top consulting firms in the world, let's take a look at exactly what a consulting firm is and what kind of services they provide. A consulting firm provides one or more consultants with a specialized set of skills that can address the needs of a client who does not have the in-house capabilities or resources to do so themselves. In some cases, businesses simply want an outside perspective and are turning to the experience and expertise of a consulting firm for guidance.
As for what a consulting firm actually does, this varies. Most firms provide financial or management consulting services and in some cases, both. A consulting firm can help improve or develop new business strategies, help find and solve inefficiencies throughout business processes, and help to improve specific facets of an organization, including marketing, sales, HR, and IT. Most consulting firms focus their services on specific industries as well.
The Top Firms Ranked By Prestige Rating
When researching the top consulting firms in the industry, you'll quickly find that there are many different lists that have been published over the last few years. One list worth checking out is Statista's list of the most prestigious firms in the world. These firms were ranked on a scale of 1 to 10 based on prestige by their peers. Within the top ten are the "Big Four," which are the four largest consulting firms in the world. Combined, these firms account for 40 percent of the global market.
The Top Consulting Firms
Below are the top 15 consulting firms appearing on Statista's list of most prestigious consulting firms in the U.S. along with a few more details about each firm and what kind of services they provide.
McKinsey & Company
It's no surprise that McKinsey & Company tops the list — they are without a doubt the most well-known consulting firm in the entire world. They are also one of the oldest having been established back in 1926 by James O McKinsey and Marvin Bower. They currently have over 127 offices throughout the world and boast a revenue of over $8 billion. They are a management consulting firm that focuses on a number of practice areas, including addressing operational, organizational, strategic, and technological issues in a variety of industries, such as media, entertainment, natural resources, and high tech. Although known for their strict confidentiality, they are said to serve 80 of the top 100 companies based in the U.S.
The Boston Consulting Group, Inc.
The Boston Consulting Group, Inc. (BCG) is a management consulting firm that was established out of Boston in 1963. In 2018, Forbes ranked BCG fourth on its list of 100 Best Companies to Work For. BCG has a reputation for innovation has been one of the first companies to focus on thought leadership. With over 90 offices in 50 different countries, they are second on the list of the biggest consulting firms. In addition to serving many of the 500 largest companies in the world, they also work with more modest mid-sized companies, including government agencies and non-profit organizations.
Bain & Company
Founded in 1973, Bain and Company is a management consulting firm that has 59 offices throughout the world and that has been named as one of the best companies to work for over the past few years by both Fortune magazine and Consulting Magazine. They provide consulting services that address almost every facet of an organization, including marketing, mergers and acquisitions, operations, organization, sustainability, and technology within multiple industries, from media to healthcare. Bain and Company have boasted a varied client list, including two-thirds of the Global 500, private equity funds representing roughly 75 percent of the global equity capital, numerous government agencies, and hundreds of non-profit organizations.
Deloitte
Deloitte Consulting has the distinction of being one of the biggest and oldest consulting firms in the world. They were established in London in 1848 by William Welch Deloitte before being moved to New York in 1880, where their headquarters remain to this day. With a revenue of over $43 billion last year and more than 100 offices across the world, it's no surprise that they were named the #1 ranked accounting firm by Inside Public Accounting in 2017 as well as #1 in consulting based on revenue by Gartner. Deloitte Consulting provides audit, financial advisory, legal, management, risk advisory, and tax consulting services to nearly 90 percent of the Fortune 500 along with more than 5,000 private and middle-market companies.
PricewaterhouseCoopers LLP
Out of all the most well-known consulting firms in the world, PricewaterhouseCoopers (PwC) is one of the newest having been established in 1998. As of 2018, their network of offices has extended to 743 locations in 158 different countries. As the second-largest professional services firm, they provide a wide range of consulting services, including financial assurance, advisory, data and analytics, legal, and tax controversy. Although primarily an accounting consulting firm, they also offer management and technology consulting services through their acquisitions of other consulting firms over the last decade (a big factor contributing to their significant growth within such a short timespan).
Booz Allen Hamilton
Based out of Washington, D.C., Booz Allen Hamilton is a management and IT consulting firm founded in 1914 with a revenue of over $5 billion. They are known for their work with government agencies, specifically aerospace and defense consulting. Booz Allen Hamilton has also worked closely with NASA, for whom they provided consulting services on major projects, including the Apollo 11 moon launch and the design of the Hubble Space Telescope. Booz Allen Hamilton actually consists of two main divisions, one that focuses on government agencies and the other which focuses on the private sector.
EY LLP Consulting Practice
Although founded in the UK in 1989, Ernst and Young have their headquarters in NYC. They are one of the "Big Four." They provide advisory, assurance, tax, and transaction advisory services throughout numerous industries, such as media and entertainment, oil and gas, insurance, banking, and more. It's interesting to note that Ernst and Young do not use the term "consulting," instead, opting to use the term "advising." They focus on improving performance, risk advisory, and IT risk and assurance. They currently have over 700 offices throughout 150 different countries.
Accenture
Accenture was founded in 1989 but wasn't incorporated until 2008. They now have locations in 200 cities in more than 120 countries across the world. Their focus is on digital, operations, strategy, and technology consulting. In fact, they've built a reputation as an innovative firm that has a knack for identifying market and technology trends. Accenture is considered one of the very best — if not currently the best — consulting firm for IT operations and IT strategy consulting. They generated a revenue of $39.4 billion in 2018.
KPMG
KMPG (Klynveld Peat Marwick Goerdeler) is actually based out of Amstelveen in the Netherlands; however, they do have a headquarters in NYC. They are a financial advisory firm that focuses on three main fields: audit, advisory, and tax. Their advisory services are organized into three groups: management consulting, deal advisory, and risk consulting. Although they are an international network of independent member firms, KMPG can be traced back to 1870; however, it wasn't until a major merger in 1987 that they became the KMPG that we know today.
Oliver Wyman
Oliver Wyman was founded in 1984 but became the firm they are today when they merged with Mercer Management Consulting and Mercer Delta in 2007. They have earned numerous plaudits as one of the best companies to work for by Fortune Magazine, Working Mothers, and Financial Times/Glassdoor. They are a management consulting business with over 4,000 consultants working in locations throughout 29 different countries. Their clients include more than 80 percent of the 100 biggest financial institutions in the world and provide services to a wide range of industries including energy, media, automotive, communications, financial services, retail, and consumer products, and more. Their consulting services address operations, risk management, strategy, digital, corporate finance and restructuring, and sustainability.
A.T. Kearney
Founded in 1926 by Andrew Thomas Kearney, A.T. Kearney is a management consulting firm based in Chicago that focuses on strategy and operation issues across industries for government agencies, businesses, and institutions throughout the world. More specifically, they address CEO agenda-based concerns, including mergers and acquisitions, digital transformation, IT, innovation, and supply chain management. They have over 3,600 employees, of which over 2,000 are consultants, in 40 different countries and have generated a revenue of over $1 billion.
Strategy&
Strategy& can trace its origins to Booz and Company, which was founded in 1914 (at the time it was called the Business Research Service). When Booz and Company dissolved in 2008, it was succeeded by Strategy&. They currently have more than 3,000 employees in 72 offices across the world. They were acquired by PwC in 2014 and now functions as the global strategy consulting business branch of PwC. Strategy& focuses heavily on innovative thinking and foresight. Although known for their confidentiality, they were vital to the merger between the National and American Football Leagues in the 1960s and helped Chrysler emerge from the 1970s as one of the top automotive companies.
IBM Global Services
IBM Global Services is a division of IBM that was established in 1991. Headquartered in Armonk, NY, IBM Global Services is a management consulting firm that focuses on business consulting and systems integration — more specifically, customer relationship management, human capital management, strategy and change, financial management, supply chain management, and business analytics consulting services. The IBM Global Services division is actually divided into two units — Global Services and Global Technology Services. Global Services is responsible for more than half of IBM's total revenue. They serve a wide range of industries, including banking, aerospace and defense, travel and transportation, retail, media, insurance, and government. Considering the size of IBM in general, it shouldn't be too surprising that they have over 300,000 employees.
Parthenon-EY
Parthenon-EY is the result of a merger between the Parthenon Group and EY in 1991. Their headquarters are in Boston, MA. Although traditionally a financial consulting service, they have expanded their consulting services to include strategy, marketing, and operations. More specifically, they focus on investment strategy, corporate strategy, value optimization, and transaction evaluation. They currently have over 3,000 employees in more than 50 offices throughout the world. They serve many different clients, including Global 1000 corporations, private equity clients, non-profit groups, and more throughout a variety of industries, such as education, entertainment, media, health care, and financial services.
L.E.K. Consulting
Boston, MA-based L.E.K. Consulting is a management consulting firm that focuses on corporate strategy, operations, and mergers and acquisitions. They were founded in 1983 and have over 1,400 employees throughout 19 offices all over the world. They were named the Strategic Consultants of the Year at the Health Investor Awards in 2015.
The Top Firms To Work For
Many of these consulting firms have the added distinction of being recognized for the quality of their work environment. It may not seem important to note whether or not they provide a good working environment for their employees, but this is actually quite important. A consultant that is happy with the firm they work with will be more productive when they're providing consulting services for your company. An unhappy consultant won't be very motivated, which means you won't get the most out of the services you're paying for.
Fortunately, Statista not only has a list ranking the most prestigious consulting firms, but they also have a list of the best-rated consulting firms to work for. If you scan over the list, you'll quickly realize that many of the consulting firms that are ranked as best-rated firms to work for also made Statista's most prestigious list. This is no coincidence — the most successful consulting firms tend to offer the best working environments for their consultants.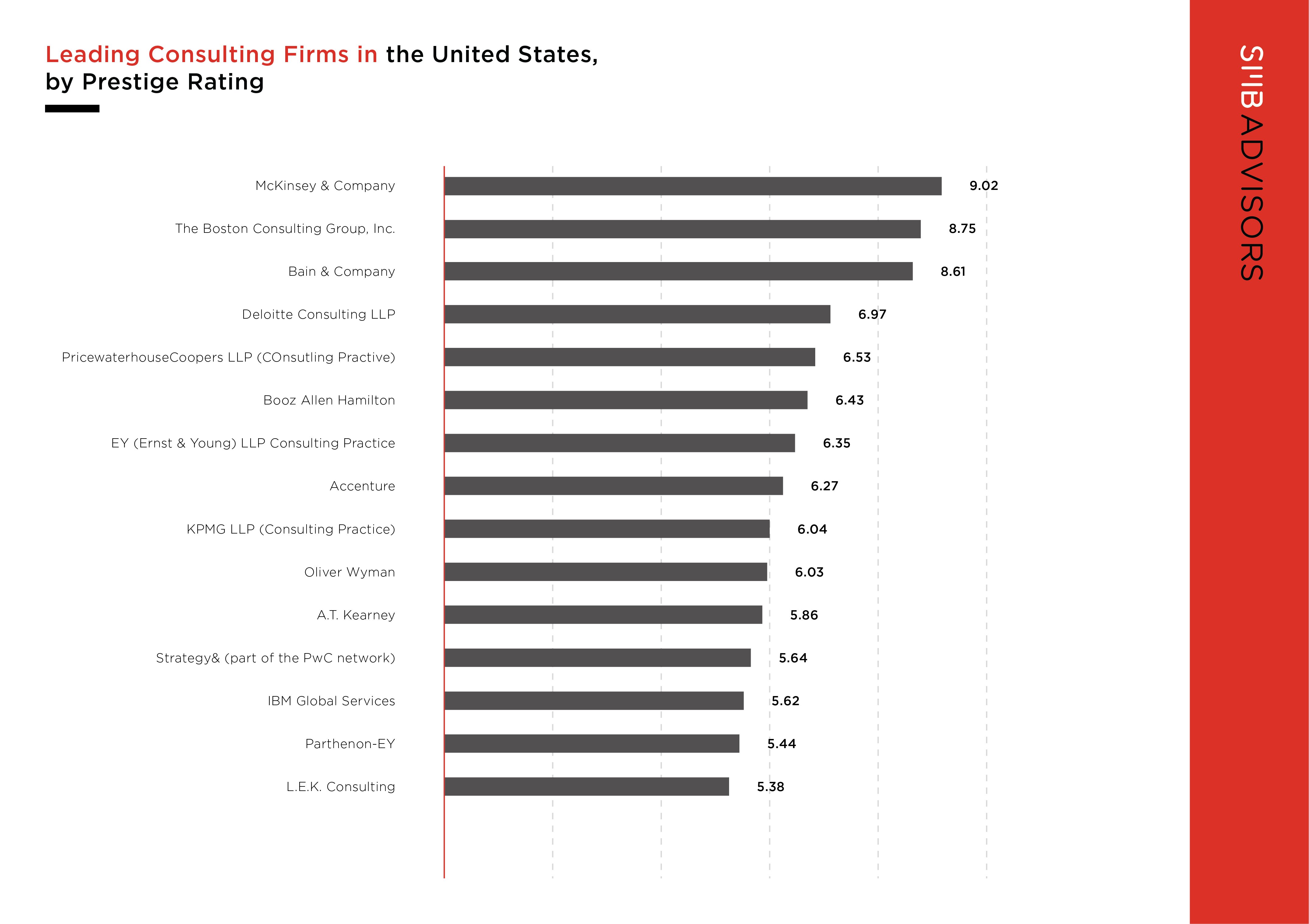 Widely Recognized
The top consulting firms are companies that are widely recognized for the quality of their work as well as for being great places for consultants to work for. Their prestige comes from a combination of reputation, deliverables, and problem-solving capabilities. When looking for a consulting firm, be sure to look into their overall reputation, their capabilities, and the industries that they serve in order to find a consultant that best suits your needs.
Unsure which consulting firm is best for you? Our trusted advisors will be glad to guide you.