Happy 6-Month Birthday HubSpot Sales Platform
6 months ago today, at HubSpot's annual marketing & sales conference Inbound 2014, co-founders Brian Halligan and Dharmesh Shah stood in front of more than 10,000 attendees and unveiled the newest addition to their inbound marketing software, the HubSpot Sales Platform.
A platform made up of two free tools; The HubSpot CRM as well as an extremely powerful sales acceleration product called Sidekick.
HubSpot CRM
The announcement made September 16th, 2014, wasn't much of a surprise, however, as the whispers of this giant release spread quickly within the HubSpot user community in the weeks and months leading up to the conference. In fact, this announcement was the most highly anticipated that I can remember since first using the HubSpot software and becoming part of their community in 2010.
The addition of the HubSpot Sales Platform and specifically the HubSpot CRM, in my own estimation, was the culmination of a fundamental commitment and shift of focus by HubSpot which began just a year or so prior when their rhetoric changed publicly at Inbound 2013.
It was then that HubSpot began to show obvious signs of expanding their inbound methodology, business philosophy and the software's UI to focus heavily on areas such as buyer personas, lifecycle stages, the buyer's journey, advanced workflows and inbound sales.
Immediately, HubSpot had transformed themselves from a 1-dimensional marketing software previously focused primarily on the Top of the Funnel and Demand Generation marketing activities to "the world's leading marketing and sales platform" that they are today (and I'm sure for many more days to come). A platform that now bleeds (probably orange and gray) marketing & sales integration to provide their customers with the methodology, technology, tools and resources to:
Attract more prospects
Convert more leads
Close more sales
Delight more customers
HubSpot's Inbound Methodology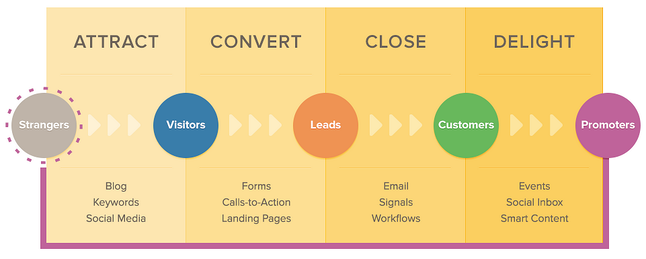 With all of that being said, the HubSpot Sales Platform has been a smashing success, especially for their small to mid-size customers who have never had a CRM system and now have one (for free) conveniently located within the same HubSpot portal.
If you're a HubSpot customer and haven't started using your HubSpot CRM & Sidekick, or you're just having a little trouble fully integrating the Sales Platform into your culture and processes, I strongly recommend that you try hard to start now.
I'm almost certain that there will be more exciting Sales Platform announcements, and you will surely want your marketing and sales teams to be comfortable with everything that is available now in order to take full advantage of any newly announced features and advancements.
What has your experience been like with HubSpot's Sales Platform?